Summer Camp 2015
JustSOFTBALL
Summer Camp 2015

June 22nd-25th, 2015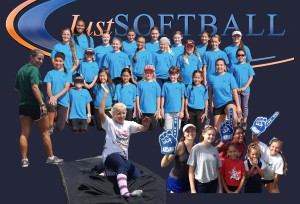 Recreation Park Softball Field
350 Eucalyptus Dr
El Segundo, CA 90245
9am-3pm Monday thru Thursday
$245- Cash, Check or Credit Card
Each camper will get 1 ticket to the
2015 World Cup of Softball, Irvine, CA
June 29-July 5, 2015, Irvine, CA
International teams from USA, Japan, Canada, Chinese-Taipei, Venezuela, Puerto Rico and Mexico
Want to print a flyer?
PRINT FLER HERE: summer camp 15
You will need Acrobat Reader.
Get a FREE Copy! You're going to need it to view the flyer
 You can sign-up on-line.  Scroll to bottom and fill out form.
Call or TEXT 310-466-0324 for more info.
Eligibility: Ages 8 through 14. Athletes will be divided up according to age and/or skill level. At the time of registration, parents must fill out a Medical Consent form and submit a copy of your Medical card. Athletes must be in good health to participate in all camp activities. Each camper must have medical insurance.
Drop Off / Pick Up: Camp is from 9am to 3pm Monday through Thursday. We have a one hour lunch break that each athlete is responsible for their own food and drink. A Staff member will stay at the facility with the athletes to supervise the break. Parents are invited to attend any session as well as lunch time. Please be prompt when dropping off and picking up.
Location: The  Camp will be held at Rec Park Softball Field – 350 Eucalyptus Dr El Segundo, CA 90245 The dates are Monday, June 22nd through Thursday June 25th.
Suggested Equipment: Bring all of your gear. Glove, bat, batting gloves, hat or visor, sliding pads, extra shirt, sun screen, water bottle, sun glasses. Please mark all your gear with your name and phone #. The camp is not responsible for any lost or stolen items. Please have an equipment bag with all items stored neatly.
Cost: The cost for each player is $245. Please sign-up EARLY! Space is limited! Maximum number of athletes allowed is 40.
You can also sign-up on the web at www.just-softball.com/camps.htm
Payment Terms: We now accept credit cards! MasterCard and Visa You must pay in full at the time of sign-up. Once camp fills to capacity, a waiting list will be maintained on a first come first serve basis. There is a $25 fee for all cancellations prior to 14 days before start of camp. There is a $75 processing fee for cancellations made within two weeks of the start of camp.
Please make checks payable to JustSOFTBALL and mail to: JustSOFTBALL – Deb Hartwig 925 Eucalyptus Dr. El Segundo, CA 90245
For more information: Contact Deb Hartwig (Director of Camps) at 310-466-0324 e-mail: deb@just-softball.com or check out the web at www.just-softball.com
You can now sign up ON LINE!! Fill out the form below and hit submit!
This form must be signed by parent or guardian to qualify athlete for participation.
[customcontact form=5]
Click Submit – make checks payable to JustSOFTBALL and mail to:
925 Eucalyptus Dr.  El Segundo, CA 90245
If you wish to pay with credit card call me – 310-466-0324
Sub-Pages
JustSOFTBALL is…
JustSOFTBALL is a group of quality instructors banded together with the common goal of helping the youth in our sport. We all played this wonderful game and we love giving back to the sport that gave so much to us. We have top instructors from diverse backgrounds and specialties. There are former top collegiate players, college coaches, professional instructors and National Team Members. We all continue to play and work in the sport of softball. Our goal is to make sure that every kid has an instructor, and every instructor has kids to teach. We understand the importance of good female role models. We also provide incredible camps and clinics that not only teach the necessary skills, but also teach the love and RESPECT for the game and all the history that walked before them.