So Cal
Contact: 562-537-7012 or sherell@just-softball.com
Sherell Vance
Sherell offers lessons for pitchers designed to improve overall skills through specialized instruction.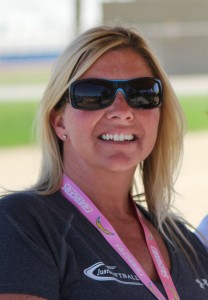 High School
Attended Bellflower High.
4 year Varsity player
4 year MVP,
4 year 1st team All Suburban League.
Received the Wendys heisman nomination for the region in 1997
Athlete of the year in 1997
Travel ball:
Played on the original Crunch ASA national champs in 1994.
Played on Gordons Panthers in 1996 (national champs).
In 7 years of travel ball never finished less than 5th place at ASA nationals.
College
Received a full scholarship to the University of Akron (D1)
Received an associates degree in Criminal Justice and a Bachelor of Science degree in Forensics, specializing in crime scene investigation.
– In college only played three years, in her senior year she tore her ACL and had surgery. she made all conference (1st team) her sophomore and junior year.
Was pitcher of the year my sophomore year.
Holds the school record for doubles hit in a single season and over doubles hit.
Was academic All American my sophomore and junior year.
Professional
Been coaching private lessons for 14 years.
Coached her first travel team in 2005, we won the AFA 10u nationals.
JustSOFTBALL is…
JustSOFTBALL is a group of quality instructors banded together with the common goal of helping the youth in our sport. We all played this wonderful game and we love giving back to the sport that gave so much to us. We have top instructors from diverse backgrounds and specialties. There are former top collegiate players, college coaches, professional instructors and National Team Members. We all continue to play and work in the sport of softball. Our goal is to make sure that every kid has an instructor, and every instructor has kids to teach. We understand the importance of good female role models. We also provide incredible camps and clinics that not only teach the necessary skills, but also teach the love and RESPECT for the game and all the history that walked before them.