Riverside
Serving: Riverside and the Inland Empire
Contact: 951-377-3072 or woody@just-softball.com
Noleana "Woody" Woodard most recently was an assistant coach at Carolina. She helped tutor the outfielders and hitters. She also assisted with recruiting.
Woodard worked on the staff at San Jose State University from 1996-00. There she handled the outfielders, hitters and base running duties. Woodard also helped with scheduling in 2000 and directed the 2000 National Invitational Softball Tournament.
Before coaching at San Jose State, she was a four-year letterwinner for the Spartans. She earned All-America honors in 1992 while starting in right field. Woodard was an all-conference selection for all four years of her career at SJSU (1989, 1991-93). She set a league record in stolen bases in 1989 and holds five SJSU career records. Woodard was inducted in the San Jose State Hall of Fame on Nov. 8, 2002.
The San Jose, Calif., native played one season of professional softball for the Tampa Bay Firestix.
Woodard received her bachelor's degree in 1996, with a major in kinesiology and a minor in nutrition and food science.
She is a member of the National Fastpitch Coaches Association.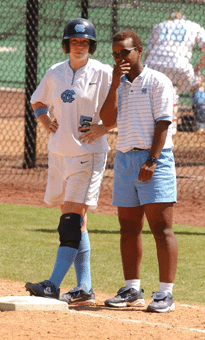 JustSOFTBALL is…
JustSOFTBALL is a group of quality instructors banded together with the common goal of helping the youth in our sport. We all played this wonderful game and we love giving back to the sport that gave so much to us. We have top instructors from diverse backgrounds and specialties. There are former top collegiate players, college coaches, professional instructors and National Team Members. We all continue to play and work in the sport of softball. Our goal is to make sure that every kid has an instructor, and every instructor has kids to teach. We understand the importance of good female role models. We also provide incredible camps and clinics that not only teach the necessary skills, but also teach the love and RESPECT for the game and all the history that walked before them.