Camps and Clinics
JustSOFTBALL hosts numerous camps during the year.  Our camps range from Summer camps, Christmas camps, and weekend camps for local leagues. JustSOFTBALL Camps are put on by our own instructors in many locations.
Yes, we do camps in our areas, but we will also travel to put on camps for your kids. A typical day will include fundamentals, agility, competition, pitching and catching and more. We will also customize any camp to your league or team needs. We believe nothing can replace hard work and practice and we will provide and accomplish that goal in a fun and positive setting!
For more information, please call 1-310-466-0324 or email:  camps@just-softball.com
If you want a camp in your area, we would gladly travel to you to provide an awesome camp for the kids in your town.
Clinic dates are listed below.  For detailed info of each camp AND the On-Line Registration, Click the links to the right.
SUMMER CAMP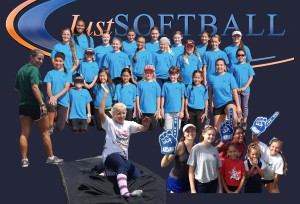 Sub-Pages
JustSOFTBALL is…
JustSOFTBALL is a group of quality instructors banded together with the common goal of helping the youth in our sport. We all played this wonderful game and we love giving back to the sport that gave so much to us. We have top instructors from diverse backgrounds and specialties. There are former top collegiate players, college coaches, professional instructors and National Team Members. We all continue to play and work in the sport of softball. Our goal is to make sure that every kid has an instructor, and every instructor has kids to teach. We understand the importance of good female role models. We also provide incredible camps and clinics that not only teach the necessary skills, but also teach the love and RESPECT for the game and all the history that walked before them.